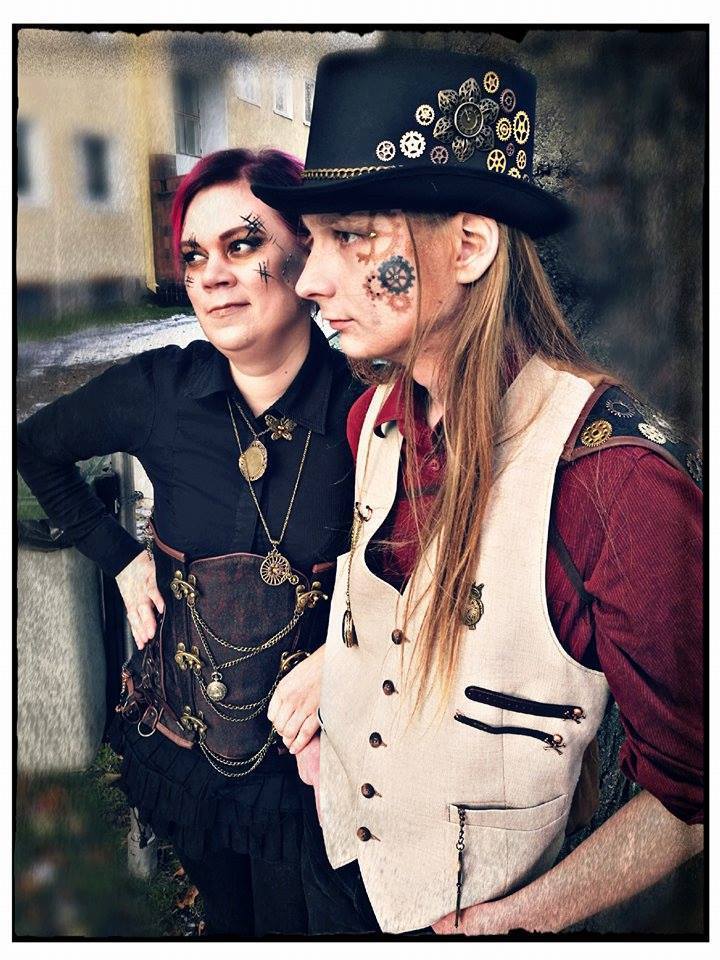 Tällä sivulla siis lyhyesti tietoa meistä. Me olemme Jussi ja Pia Moilanen. Olemme Jyväskylässä asuva pieni perhe, joka päätti muuttaa yhden harrastuksistaan työksi.
Harrastamme perheemme kesken paljon lautapelejä, musiikkia ja erinäisiä kädentaitojen projekteja. Mielenkiintoihimme liittyy vahvasti kaikki fantasia-, steampunk-, fiftari- ja viikinkiaiheet, joka näkyykin paljolti tuotteissamme. Askartelu ja yleensäkin käsityöt ovat olleet molemmille tärkeitä jo varhaisesta iästä asti ja viimein, hetken miestiskelyn jälkeen, päätimme perustaa Glimmering Deep Designin.
Hartaana toiveena olisi tehdä juuri sitä mitä haluaa elääkseen ja tämä on meille juuri se.
Glimmering Deep Design Oy
Glimmering Deep Design Oy myy käsintehtyjä koruja ja kortteja. Tarvitsit uudet korvakorut tai kutsukortit vieraillesi, meiltä saa. Näiltä sivuilta löydät tuotteet, tietosuojaselosteet, toimitusehdot ja tietysti ystävämme ja yhteistyökumppanimme. Jahka haluamasi tuote ei löydy sivulta, ota yhteyttä! Vastaanotamme tilauksia koosta ja tyylistä riippumatta!
Käytämme tuotteissamme paljon erilaisia materiaaleja. Käytämme myös kierrätysmateriaaleja, joista usein syntyy jopa ne parhaat ideat ja ajatukset. Korvakorukoukut, joita käytämme on korumetallia tai kirurgin terästä. Testaamme myös metalliosat, jotka ovat ihon kanssa kosketuksissa nikkelitestein. Koruissa käytetyt maalit ovat myrkyttömiä. Käytämme koruissamme myös vanhoja lusikoita ja näiden pinnan lakkaamme, koska osa lusikoista on hopeaa ja osa alpakkaa, joka sisältää nikkeliä. Leimailu on lähellä sydämmiämme, joten käytämme paljon eri valmistajien leimoja eri töissämme. Papereita, korttikuvia ja erilaisia sapluunoita, muotteja ja stansseja on myös paljon eri valmistajilta. Pyrimme varmistamaan näiden tuotteiden käyttöluvan tai maksun myyntikäyttöön niin hyvin kuin pystymme. Osan malleista suunnittelemme itse.
Kysy tarvittaessa lisää materiaaleista yhteydenottolomakkeen kautta. Vastaamme mielellämme jos jokin vielä arvelluttaa.
Nimi sai inspiraationsa J.R.R. Tolkienin Keski-Maasta, Aglarondin (sindarin) Kimaltelevista luolista, jonne Gimli muutti Sormuksen Sodan jälkeen. Haluaisin ajatella sen kuvastavan asioiden kaksisuutta ja siten sopivan meille.
Katso: http://kontu.wiki/Aglarond / http://lotr.wikia.com/wiki/Glittering_Caves
About us
Here you can find information about us briefly. We are Jussi & Pia Moilanen, small family living together at Jyväskylä in Finland, who decided to change one of their hobbies into a small business.
We share love for board games, music, similar handmade craft projects, and we also share strong interest in fantasy, steampunk, fifties and Viking cultures. These themes you will find on our handmade products.
We both have been into crafts since early childhood. After thinking and careful planning we decided to start up Glimmering Deep Design. We are hoping to make a living by doing what we absolutely love and adore both as individuals and as a couple.
Glimmering Deep Design
Glimmering Deep Design provides handmade jewelry and post cards. If you need for example a special handmade jewelry set for gift, or invitation cards for your wedding guests, this is where you can find those and a lot more. These pages include products, privacy policy, terms of delivery, and of course our friends and associates. We also do custom orders, so if can't for some reason find what you are looking for, just get in contact! We accept orders no matter the size or style!